Build Blocks Wii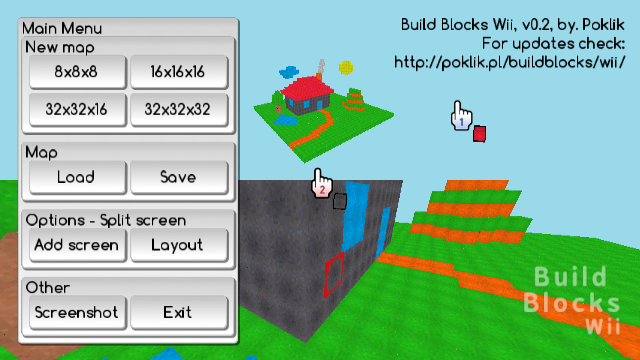 Build Blocks - simple 3D sandbox game with blocks for Wii.
Modded Wii with Homebrew Channel (or equivalent launcher app) is required to run this game.
v 0.2:
New version with:
map loader/saver (fully compatible with Nokia S60/Asha version),
splitscreen mode (up to 4 screens with different layouts),
bigger maps (not THAT big, just 32x32x32 for now),
GUI,
screenshots support (press "2" on wiimote for full screenshot with GUI),
fps counter (in debug console - press "up" on wiimote).
v 0.1:
There's no gui yet, and you can only place/remove blocks on 8x8x8 board. Up to 4 players on one screen are supported. Standard Wii Remote is required for controlling stuff. 16:9 and 4:3 TVs are supported. Should also work with Wii U on virtual Wii mode, but this is not confirmed yet.
Anyway it's first test build so don't expect too much.
Controls (standard wii remote):
home : menu,
A : zoom/place block,
B : rotate camera,
- : remove block,
+ : quick place block (without zooming),
down : unzoom,
left/right : select block color,
up : toggle debug messages,
2 : screenshot (with GUI).